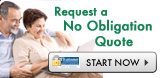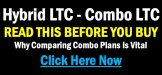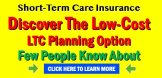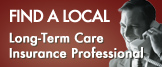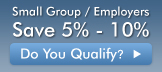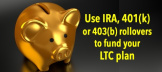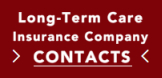 Long-Term Care Alerts
2023 Linked Benefit Long-Term Care Insurance Prices 15% Lower, see 2023 long-term care insurance price index
---
---
---
---
---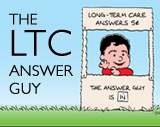 ONLINE INSTANT CHAT WITH THE LTC ANSWER GUY Jesse Slome Executive Director of the Association.
Available 8am-4pm Pac. Time. Click Here to start chat.
Q. How do I get the best rates?
Request costs from an Association member or click our Request A Quote box above.
Q. What's the best age to start?
We believe between ages 52 and 64 for and we explain why.
Q. Does insurance pay for home care?
Most policies sold today do. 50% of LTC insurance claims started for home care.
Q. Are costs tax deductible? They may be fully deductible. See 2012 rates in our Consumer Center.
Q. Are insurer ratings important? Very important because you want a company there in the future. We list ratings in our Consumer Center.
Read All Questions
---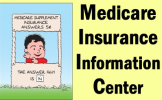 ---
Long Term Care Insurance Information from America's Long-Term Care Insurance Experts
Find The Best Cost - Long Term Care Insurance Company Ratings
Chances are you'll live well into your 80s, your 90s and possibly even longer.
When you live a long life, the likelihood you'll need long-term health care is greatly increased. Younger people also need long term care as a result of accidents or illnesses.
Long-term health care is generally not covered by medical insurance, by Medicare supplement plans or group / employer insurance. For seniors on Medicare, the long-term care benefits are quite limited.
That is why over 10 million Americans have purchased long-term care insurance. The American Association for Long-Term Care Insurance was established in 1998 to educate individuals and to support insurance and financial professionals who market this protection.
Our Long-Term Care Insurance Consumer Information Center is the nation's most comprehensive resource. Find the most current information including long term care insurance costs, ways to save, tax deductibility rules and long term insurance companies and their ratings.
Request a free, no-obligation cost comparison from an Association member today.
Costs for long term care insurance can vary significantly from one long term insurance company to another. In fact, our yearly Long Term Care Insurance Price Indexes have found that rates for virtually identical coverage could vary by over 110 percent.
It pays to compare - the yearly savings can be substantial.
Latest Association News
See All Archived Association News »
Shopping For Long-Term Care Insurance?
Watch This Brief Video
Advice On Long-Term Insurance - Information You Need To Know
The three questions we are asked most often are:
How much does long term care insurance cost?
Are there ways to save money?
What is the best age to start planning?
Let's start with the last question first. Long term care insurers will only issue policies to those in relatively good health. Since you'll probably never be healthier than you are today, this is the right time to start thinking about it. Most people start long term care planning between ages 52 and 64.
Each year the Association surveys insurers to determine ages for those purchasing coverage. For individuals purchasing coverage in 2014, some 6.5% did so between ages 35 and 44. Some 25.0% between ages 45 and 54. Some 55.2% between ages 55 and 64. And, 7.8% were age 65 or older. Costs increase based on your age. But the ability to health-qualify is what matters most.
In terms of what long term care insurance costs: what you'll pay depends on your age and health when you apply and how much coverage you want. Costs also vary from one insurer to another - by as much as 40-to-110 percent per year. Each insurer has what we call a "sweet spot" and that's one reason to compare costs before you buy.
Discounts can make your long-term insurance far more affordable than you think. For example, discounts are offered when two spouses apply. Some insurers will offer discounts to partners living together or a partial discount when only one person is covered. Discounts can vary from one insurer to another. There are ways singles or those living alone can also reduce the cost.
Finally a few tips -- though you'll find a wealth of information in our Consumer Information Center. Start comparing costs about 30-to-60 days before your birthday to lock in the lower rate. If you have a health condition or have been prescribed medications, let the insurance agent 'shop your health' before you apply. If you own a small business, read our page on tax deductions for long-term care insurance.
The American Association for Long-Term Care Insurance does not market or sell insurance but our members do.
It always pays to speak with a professional because:
Costs for long-term care insurance can vary among insurers,
Discounts can vary from one insurer to another,
Acceptable health conditions can vary,
Long term care insurance company ratings are important in your decision,
Covered care and policy benefits can vary.
Fill out the Association's free quote request. We'll connect you with a professional who'll provide advice on planning and costs for insurance protection-without any obligation.
Long Term Care Insurance Cost Comparison From An Association Expert - Click Here Now To Get Started
---
Medicare Insurance Information
Visit our sister organization to learn more about Medicare insurance options. Use the Association's free online directory listing local Medicare agents listed by Zip Code.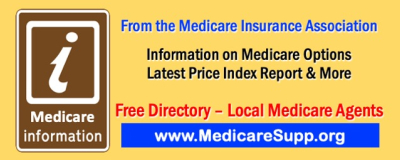 Click to Visit the American Association for Medicare Supplement Insurance website
---
Disclosure: It is our desire to deliver the most current, fair and balanced information that assists individuals seeking information on long-term care insurance planning. Information is not intended to provide tax advice and due to the size of our website we recognize some older information still exists. The American Association for Long-Term Care Insurance derives income from membership dues from insurance professionals who want access to our research and support material and may also receive remuneration from our affiliated partners through the placement of long-term care insurance.