If you find the image below difficult to read, a PDF version is available. See Below the Image.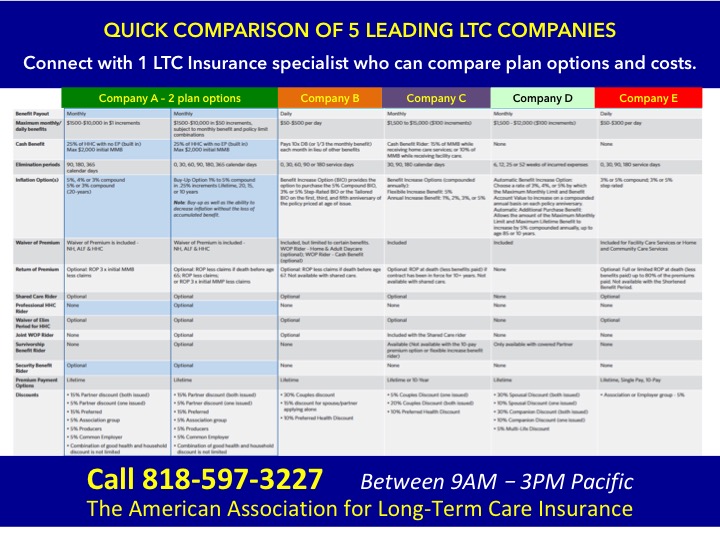 ---
Click Here to Open A PDF of The Chart
---
Get The Best Long-Term Care Coverage - The Best Plan Benefits - For The Best Cost
Whether you are considering a traditional LTC policy or a 'linked-benefit' (Life+LTC) hybrid policy, there can be significant differences in policy options and pricing. To understand the differences, it pays to work with a knowledgeable "specialist" who can compare multiple policies and help get you the best coverage for the best price.
To Speak With a LTC Insurance Specialist
Call the American Association for Long-Term Care Insurance
818-597-3227 - Between 9AM and 3PM Pacific Time
Click Here to E-mail The Association. We'll Connect With ONE LTC Specialist
The American Association for Long-Term Care Insurance does not sell or recommend any insurance products. If you ask for information, we will connect you with one, independent long-term care insurance specialist who represents multiple insurance carriers and can explain BOTH linked-benefit as well as traditional long-term care insurance.
There is NO COST and NO OBLIGATION to buy from them.
---
How To Get The Best Long-Term Care Insurance Coverage & Costs
Some thoughts from Jesse Slome, Director of the American Association for Long-Term Care Insurance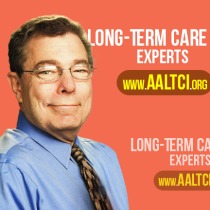 I have focused on long-term care insurance since the late 1980s. And, I co-founded the American Association for Long-Term Care Insurance in 1997.
And, as you can tell from the enormous amount of information on the Association's website, I believe that an EDUCATED CONSUMER is the best prospect for this important protection.
But here is one thing that I know ... and that you should know
Long-term care insurance is extremely complicated. As smart as you are, the insurance company is smarter and has more lawyers working for them than you ever will.
Everything is going to be spelled out in great detail in your policy contract. And, chances are very likely you won't read it. You generally don't even receive a contract until AFTER you have applied and been approved for coverage.
And so much of what you read online is OUTDATED, INCORRECT AND IRRELEVANT.
Here's just one important example: INFLATION PROTECTION.
Years ago, five (5) percent compound inflation growth was the preferred option. Then it became three (3) percent. But that was when banks were paying 2-to-3 percent on CDs. Today, adding the 3 percent inflation growth option will generally DOUBLE THE COST of your base policy. But, while inflation is low today, it could grow in the years ahead.
One of the policies shown above ALLOWS YOU TO INCREASE YOUR INFLATION GROWTH OPTION in the future. You probably overlooked that in the chart. I would have!
But that's just one reason that the Association advocates for the importance of speaking with a knowledgeable long-term care insurance specialist. He or she will know the differences between the various policies and can help you get the best coverage that suits your needs as well as what you'd like to spend.
You can call the Association with your general questions. If you'd like us to have one specialist connect with you (free and of course they will never pressure you to do anything) Call our offices at 818-597-3227 between 9AM and 3PM Pacific Time.
---