Linked Benefit FAQs - What You Need To Know Before Buying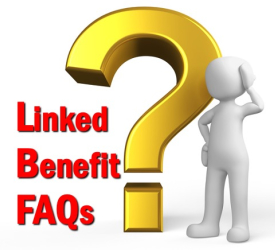 IMPORTANT DISCLAIMER: The following information is provided as a general overview of the topic. Insurance policies are contracts. They can vary significantly and their language will govern if and when you will qualify for benefits and how they are calculated.
Consumers should request a "Specimen Policy" and read it carefully before buying. A "Specimen Policy" is NOT an "Outline of Coverage" which is an illustration of benefits. It will contain specific definitions.
Have A Question To Ask? You can Email us. Use the form on the right (BELOW the Request A Quote form).
---
What Is Linked Benefit Long-Term Care Insurance?
The Association tries to keep things simple for consumers. So, simply, we define it as an insurance policy that combines (or 'links') long-term care (LTC) insurance benefits with another type of insurance. It's basically a rider added to a life insurance policy or an annuity.
We use it as a catch-all phrase. But, in reality, there are various types of insurance policies governed by federal and state rules. They are NOT all equal. Buying the wrong type of plan could leave you quite disappointed come claim time. Read more about the differences between 7702B and 101(g) plans.
---
How Do I Find The Best Linked Benefit Long-Term Care Plan?
Compare – compare – compare. Or, work with a knowledgeable Linked Benefit LTC Agent who knows the various plans and can compare them for you.
Most financial advisors and life insurance agents only know and sell one or two plans. You only buy this coverage once in your life. It almost never pays to switch. And, they are not cheap.
It's a complex product. Don't believe us? Ask for a "Specimen Policy" before you buy. It will likely be 50 pages of single-spaced legalese. That contract will govern everything that matters to you when you are ready to benefit from what you bought.
---
What Are The Benefits Of Linked Benefit LTC Plans?
Again, keeping things simple, here's what people like about policies that meet 7702B Internal Revenue Code (IRC) regulations. As we said, different rules can apply to 101(g) plans.
A Linked Benefit LTC policy can pay for qualifying long-term care needs (home care, assisted living, skilled nursing home). If long-term care is not needed, they provide a death benefit (life insurance policies).
---
How Do These Plans Work?
These are basically life insurance policies that allow the death benefits to be withdrawn to pay for qualifying long-term care. Typically, the death benefit is used up (reduced to $0) over the first two to three years of a claim.
Following that, a policy may offer an "extension of benefits" or "continuation of benefits". This can continue providing benefits for qualifying long-term care needs for an additional two to six years. It should be noted that one linked benefit insurance company offers a lifetime or unlimited continuation of LTC benefits.
---
Do Costs Vary? Do Benefits Vary?
My goodness, yes they do. Each insurance company determines what they want to charge. These costs can vary.
But more important, the available options and benefits can vary. It is vital to compare these policies carefully. Check out the Association's 2022 Linked Benefit Long-Term Care Price Index to see actual prices and benefits from four of the nation's top insurers.
---
Do These Plans Have Health Requirements?
The short answer is yes. In general they may be less extensive than those for traditional long-term care insurance.
If you have some existing health conditions, it can pay to consult with a long-term care insurance agent. He or she can quickly tell you whether you will be eligible for coverage. They generally know the requirements for the leading insurers.
---
Are There Age Requirements?
These will vary by company. The Association's Request A Quote form will accept requests from those between ages 30 and 80. While an option may be available past 80, it's generally a very rare circumstance.
---
What Is A Chronic Illness Policy?
When is a "Linked Benefit Long-Term Care" policy NOT a true linked-benefit policy?
The answer is when it is a "Chronic Illness" rider. Confused? You should be. But rest assured the insurance company understand the difference.
Come claim time, this type of policy may not provide the benefits you expected.
How can you tell the difference? A chronic illness policy (sometimes referred to as 101(g) plans, must specifically say (somewhere in the 50-plus page contract) that this "is not intended to be long-term care insurance". That's why we specifically urge you to request a "Specimen Policy" before buying.
An added note. Don't confuse "Chronic Illness" with "Critical Illness" policies. The latter pays a lump sum if you are diagnosed with specific conditions like cancer, heart attack or stroke.
But that's the simplified explanation. Because combines - or links - LTC insurance benefits with another type of insurance like life insurance or an annuity. It provides a pool of money to pay for long-term care expenses, but if you never need care your heirs receive a life insurance death benefit or the cash value from an annuity.
---
Connect With One Linked Benefit Agent
Complete the Compare Benefits and Costs form. Your information will be shared by the Association with JUST ONE linked benefit agent who specializes and can explain the differences between the various linked benefit long-term care policies available.
---

---
Learn more: Find the best linked-benefit long-term care insurance now.
---