Compare Long-Term Care Insurance Information Center
Consumer Video Library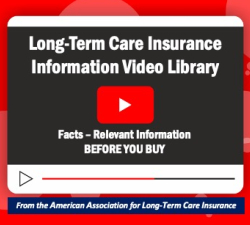 If you are thinking about purchasing long-term care insurance the Association is here to help.
Unlike other types of insurance, where you can change policies or insurance companies, it almost NEVER pays to switch long-term care insurance policies after purchasing. That's why getting as much information can save you money. It can also get you better coverage for your future needs.
There are significant DIFFERENCES BETWEEN POLICIES. Differences in costs (what you'll pay). Significant differences in potential benefits (when you are ready fopr benefits).
The following information is provided as a general overview of the topic. Insurance policies are contracts. They can vary significantly and their language will govern if and when you will qualify for benefits and how they are calculated. The Association does NOT give any legal or financial advice.
That's why we believe it is smart to speak with an experienced and knowledgeable long-term care insurance specialist. If you complete the Compare Benefits & Costs Form, the Association will arrange for just ONE specialist to connect with you.
---
Long-Term Care Insurance Videos Worth Watching
The Association makes available a series of informative videos. Most are about 6-minutes. If you like the information, we would always appreciate you "Liking" the video.
#1-- 3 Mistaken Beliefs About Long-Term Care Insurance (6 min)
---
#2-- 4 Things To Know Before Buying Linked Benefit LTC (6 min)
---
#3-- What You May Not Have Been Told; 7702B versus 101(g) (6 min)
---
#4-- 4 Questions To Ask Your Advisor / Agent Before Buying (4 min)
---
#5-- Choosing Between Reimbursement And Cash Models (5 min)
---
Linked-Benefit Long-Term Care Insurance Resources
Find the best linked-benefit long-term care insurance now.
Compare prices for hybrid long-term care insurance - 2022 Price Index for 4 largest insurers.
Learn the differences between 7702B and 101(g) policies .
Read the 4 questions to ask your long-term care insurance agent before buying.
---