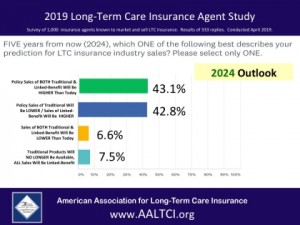 Trends and changes in the long-term care insurance marketplace are impacting the future of the business according to the director of the American Association for Long-Term Care Insurance (AALTCI).
"All businesses evolve and change, what's important is understanding what's taking place and being positioned to take advantage of those changes," explains Jesse Slome, director of AALTCI.  The organization recently surveyed over 1,000 insurance professionals who have prior experience selling both traditional and linked-benefit LTC insurance policies.
"Sales of linked-benefit products clearly now dominate the landscape," Slome shared with insurance professionals on a morning call.  "Nearly half of the survey respondents predicted that in five years, their sale of traditional products will be lower while their sale of linked benefit products will be higher.  And, almost one in 10 (7.5 percent) predicted that traditional products will no longer be available and that all long-term care insurance sales will be linked benefit products."
Slome noted an increased interest among reporters with the State of Washington's initiative that will provide a long-term care benefit for residents.  "I see a negative short-term impact but a longer-term opportunity for change and growth," Slome added.  "First, we'll have to see if the concept spreads to other states including some of the larger ones like New York and California.  There are strong advocates for programs like this and few detractors and little opposition from younger taxpayers who will be paying the cost, so we will see."
A state-based universal long-term care benefit will give many people the sense that their planning is taken care of.  "For many, it will be a check-mark, that they now have a long-term care plan," Slome cautions.  "But longer term, if there's mass adoption of such a plan, there will inevitably be space for a supplemental insurance plan similar to the way Medicare Supplement insurance is now owned by 14 million Americans.  So, longer term, there's cause to be optimistic."
The American Association for Long-Term Care Insurance advocates for the importance of long-term care planning. The organization connects consumers with knowledgeable professionals who are independent advisors for no-cost, no-obligation long-term care insurance quotes and policy comparisons.
Jesse Slome is founder of the organization and currently serves as the director for AALTCI as well as the American Association for Medicare Supplement Insurance as well as the American Association for Critical Illness Insurance.