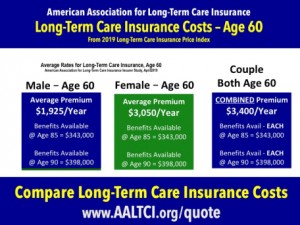 A 60-year old male purchasing new long-term care insurance coverage can find excellent coverage for under $2,000 a year providing nearly $400,000 in benefits at age 90 according to a cost analysis just conducted by the American Association for Long-Term Care Insurance.
According to the just-released 2019 Long-Term Care Insurance Price Index for individuals age 60, prices for coverage can vary significantly.  "We found a spread of over 100 percent between the lowest priced coverage from a top-rated insurer to another," explains Jesse Slome, director of the American Association for Long-Term Care Insurance.  "Once again, it reveals the importance of comparison shopping and working with a knowledgeable long-term care insurance specialist."
According to the Association's 2019 Price Index, the average annual premium for a 60-year-old couple was $3,400.   "That may sound like a lot but each spouse would have nearly $400,000 available for their care at age 90," Slome notes.  "These policies included an option that increases the benefits by three percent annually.  If the consumer selects a lower annual growth option, say 2 percent yearly, the cost of insurance would be lower."
Married couples often benefit from a significant spousal discount, Slome explained.  According to AALTCI studies, married couples or older adults living together purchase the majority of long-term care insurance policies the Association director notes.
The long-term care insurance expert recommends consumers consider some advantageous planning and savings strategies.   "There are smart ways to protect yourself and save money," Slome explains.  "For example, married couples should ask if a shared care option is available."  This option enables one spouse to use the benefit pool of the other.  "Accepting a two (2) percent inflation growth option instead of the three (3) percent can save nearly 20 percent yearly," he adds.  These features are not offered by all insurers the Association director points out making comparison shopping vital.
The Association's website offers consumers free access to informational guides on long-term care planning.  To obtain long term care insurance costs from a professional with expertise specifically in long term care insurance products offered by multiple leading companies call the national organization at (818) 597-3227 or visit the Association's website at www.aaltci.org/long-term-care-insurance/free-quote/.