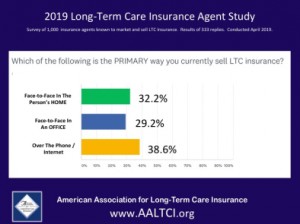 Nearly 40 percent of agents selling long-term care insurance policies today, make their sales over the telephone and Internet according to a survey conducted by the American Association for Long-Term Care Insurance (AALTCI).
"While the majority of agents still come to the person's home or meet in their office, the trend is definitely moving in the direction of utilizing technology," explains Jesse Slome, director of AALTCI.  "Selling over the phone is far more time-efficient for the agent and many consumers who we speak with would prefer not having an insurance agent come to their home."
The Association director noted that over 300 insurance agents participated in the online survey.   "Many of the agents who sell 10 or more policies yearly now do so exclusively over the phone," Slome noted.  "Some sell hundreds of policies each year this way so I couldn't guestimate what percentage of overall sales are made this way."
The survey asked agents their primary source of leads.  Nearly a quarter (22.4 percent) reported that client referrals were their primary source.  The largest percentage (40.5 percent) partner with other insurance agents or get their leads by working together with centers of influence such as accountants, estate planning attorneys and financial advisors who do not offer insurance products.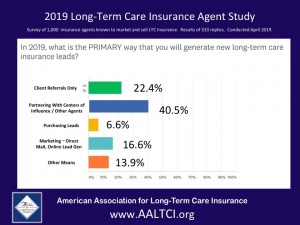 Less than one in 10 agents (6.6 percent) shared that they purchased leads.  "Purchasing leads today can be quite costly," Slome shared.  "Leads generated can easily cost $50 or more and that can add up quickly especially since many people want some simple pricing information and others may not be able to health-qualify for long-term care insurance coverage."
The American Association for Long-Term Care Insurance advocates for the importance of long-term care planning.   The organization connects consumers with knowledgeable professionals who are independent advisors for no-cost, no-obligation long-term care insurance quotes and policy comparisons.
Jesse Slome is founder of the organization and currently serves as the director for AALTCI as well as the American Association for Medicare Supplement Insurance as well as the American Association for Critical Illness Insurance.