Nearly three-fourths of long-term care insurance claims end due to the death of the individual according to a study released by the American Association for Long-Term Care Insurance (AALTCI).
See more long-term care insurance facts and statistics here.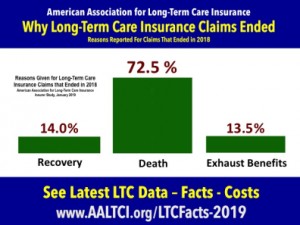 Millions of Americans have benefited from owning a long-term care insurance policy that pays for care at home or in a skilled facility people to do just that," explains Jesse Slome, director of AALTCI that gathered data from seven leading long-term care insurance companies.    "Some claims last many years and have paid out over $2 million, others may last for just a few days, weeks or months.  But ultimately all claims come to an end and it's helpful to consumers to understand the reasons that claims end."
According to the national LTC Association's analysis of long-term care insurance claims that ended in 2018 some 72.5 percent of claims ended due to the death of the policyholder who was receiving claim benefits.  Some 14 percent ended because the person recovered and no longer needed qualifying care and 13.5 percent ended because the policyholder exhausted their policy benefits.
"Most of the traditional long-term care insurance policies purchased today will provide a contractually based amount," Slome explains.  "The person's benefit pool of available claim dollars could be maxed at $200,000, $500,000 which all depends on the policy provisions they selected and pay for.  It's important to note that only a small percentage of policyholders exhaust or run out of insurance benefits."
Slome believes that is an important factor for consumers to know because while more insurance coverage is always better, he explains the more coverage you buy, the more you will likely pay in monthly or yearly premiums.  "I advocate consumers consider a Good-Better-Best approach to comparing long-term care insurance because affordability is always an important factor," Slome says.  "Some coverage is always better than no coverage and as the data shows, for many will be sufficient benefits for the care they need."
Just over 300,000 individuals received benefits in 2018 from owning a long-term care insurance policy according to AALTCI claims data reported earlier in the year.  "The industry paid out over $10 billion in 2018 and this increases each year as more people need assistance," Slome adds.   The LTC expert notes that it's best to apply for insurance coverage before you qualify for Medicare at age 65.
The American Association for Long-Term Care Insurance advocates for the importance of long-term care planning.  The organization connects consumers with knowledgeable professionals who are independent advisors.   Consumers seeking long-term care insurance cost comparisons should visit the Association's website at www.aaltci.org or can call the organization's national headquarters at 818-597-3227.