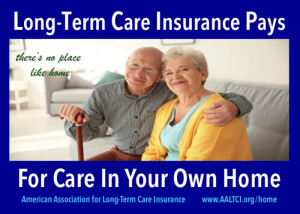 More than two-thirds of new long-term care insurance policy claimants receive benefit payments covering care in their own home according to the American Association for Long-Term Care Insurance.
"People mistakenly associate long-term care insurance exclusively with nursing home care," explains Jesse Slome, director of the organization.  "When care is needed, people prefer to remain in the familiar surroundings and comfort of their own home.  Long-term care insurance can cover costs associated with care services provided at home."
A just-concluded analysis of claims paid by leading insurers in 2019 finds that 70 percent of new claims began with the policyholder receiving care at home.  "This represents an increase from 52 percent (2014 analysis)," Slome notes.  "The majority of claims began and also ended with the policyholder receiving care in their own home."
According to the Association, in 2019 the nation's long-term care insurance companies paid $11 billion in benefits to some 310,000 individuals.  "While sales of traditional LTC insurance policies have declined in recent years, claims paid have increased 35 percent from $8.1 billion paid in 2015."
In 2019, fewer than one in 10 new claims began with care provided in a nursing home according to the Association's study.  The balance, around 18 percent commenced with care in an assisted living setting.  "Covid-19 has made individuals increasingly desirous of the ability to remain at home and more insurance professionals are focusing on the home care benefits available," Slome says.
"Cash benefits that can pay for non-certified caregivers, including a family member, are one of the options currently offered," explains George Mellendorf, President of LTC Solutions, a national distributor of individual and multi-life long-term care insurance headquartered in Cape Coral, FL.  "Policies that can pay immediate benefits for home care without having to meet the standard 90-day elimination or deductible period are increasingly popular."
Seven million Americans currently have long-term care insurance protection according to AALTCI.  "For less than $100 a month, a 57-year-old male can currently purchase a policy that pays $5,100 monthly for home care services when he reaches age 85," Slome notes.  "If home care is needed for two years, the policy would pay out over $122,000 in total benefits."
Newer policies available offer a number of consumer-friendly features Mellendorf points out.  "Some permit increasing the future benefit amount by changing the inflation growth factor," he adds.  "Access to a separate pool of money to pay for home modifications such as bathroom grab bars or ramps can make it easier to remain at home as one ages."
To learn more about long-term care insurance visit the American Association for Long-Term Care Insurance website.  To receive no-obligation long-term care insurance quotes from an independent specialist for your state, call the organization at 818-597-3227.