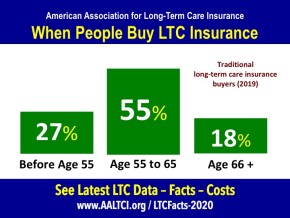 More than half of long-term care insurance buyers are between ages 55 and 65 reports the American Association for Long-Term Care Insurance.
"Those 10 years are actually the best time to apply for and purchase long-term care insurance," explains Jesse Slome, director of the American Association for Long-Term Care Insurance.  "It's when one is more likely to meet the health requirements and also to find the premiums more affordable."
According to Slome some 55 percent of buyers of traditional long-term care insurance policies were between ages 55 and 65.  "Just over a quarter (27%) were younger and only 18 percent were age 66 or older."
Health is an important factor in obtaining a long-term care insurance policy.  "Insurers will look at your health, the number and type of prescription medications you take as well as your height and weight," Slome explains.  "As we age, we generally take more drugs and have more health conditions that prevent many from meeting the health qualifications for this coverage."
Recent data shared by the organization revealed that a quarter (22.4%) of Americans between ages 49 and 70 take five or more prescription drugs every month.  "Almost half of men (46.4%) and nearly as many (43.3%) of women who are between 40 and 59 are defined as obese," Slome adds.  "After age 65, some 30 percent of people indicate they have some physical disability and that is likely to make one ineligible to health qualify for long-term care insurance."
To access the latest long-term care insurance statistics facts go to our home page and look under the Statue of Liberty image.
Established in 1998, the American Association for Long-Term Care Insurance advocates for the importance of planning.  AALTCI supports insurance professionals who market both traditional as well as hybrid long-term care insurance.  To get information or request long-term care insurance quotes from a specialist in your area call the organization at 818-597-3227 or visit their website at www.aaltci.org.