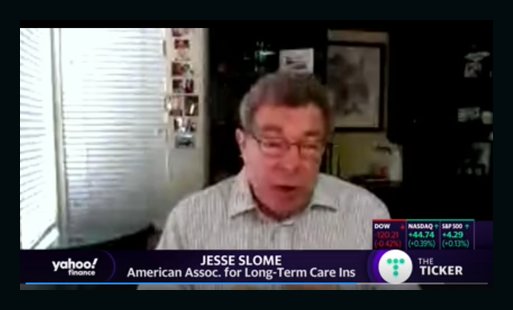 A special news segment focused on Covid-19′s impact on long-term care insurance planning featured Jesse Slome, director of the American Association for Long-Term Care Insurance (AALTCI).
"The Covid-19 virus has touched so many aspects of our lives and that includes the long-term care insurance industry as well as prospective policyholders," explains Jesse Slome, director of the American Association for Long-Term Care Insurance.
Slome was interviewed for a segment that appeared on the Yahoo Finance Network.  "I was pleased to help increase awareness of the importance of planning and how Covid-19 can affect how people think about long-term care insurance," Slome noted.
"Covid-19 has strengthened our resolve to position long-term care insurance as nursing home avoidance assurance," the national spokesperson added.  "The vast majority of policyholders use the benefits to remain in their own home and in light of how Covid has wreaked havoc and death within nursing homes, this is even more reason to understand the importance of insurance benefits that enable you to stay at home."
Slome pointed out that several insurers have or are about to increase rates on new long-term care insurance policies.  "Typically other companies follow suit so now could be a good time to lock in rates," he advised the audience.  In addition, insurers who typically accepted applicants from individuals up to age 70 and 75 have lowered the age caps.
To access the Covid-19 and long-term care insurance planning information visit the Association's website.  To connect with a specialist for long-term care insurance quotes and information call the organization at 818-597-3227.