Washington LTC Initiative
Commentary by Jesse Slome, November 5, 2021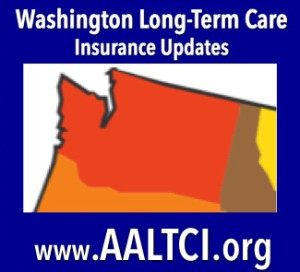 Many long-term care insurance professionals (and many others) are closely watching what's taking place in Washington State.  For those just hearing about this for the first time, the State has initiated a universal program that will provide some home care benefit coverage paid for by a tax on individuals.
The tax begins January 2022.  The benefits become available down the road.
I too am watching.  Having been involved with the long-term care insurance marketplace since the late 1980s, I have seen quite a bit.  And, like so many others, I have opinions and keep in touch with a variety of industry thought leaders.
Many are very enthusiastic about the fact that other states (such as California) are considering an initiative that they believe could generate enormous sales of LTC insurance.
When it comes to long-term care insurance rate increases, I often tell reporters that "the past doesn't equal the present or the future".  So, I guess, the same can be true when it comes to legislation like the Washington program.  However, it is difficult for me to forget the CLASS Act which passed Congress, was signed into law by President Obama, was staffed … and then silently walked away from with nary a whisper.
---
 WASHINGTON PROGRAM UPDATE: November 5, 2021
I personally want to acknowledge Steve Forman of LTC Associates who really does a yeoman's job of sharing interesting and relevant program news.  Here's some relevant information and my commentary.
As of November 2, the State has received 339,078 requests for exemptions and approved 127,886 (another 1,392 were incomplete). 
Commentary:  The State of Washington has about 3.7 million employed individuals according to the Bureau of Labor Statistics.  That means about 10% (presumably the higher earning workers) have requested an exemption.  Wonder what Milliman anticipated when pricing and what the potential revenue loss will be.  Bottom line, it clearly is concerning some …
The LTSS Trust Commission is 'concerned'.  They are proposing regular certification and more.
Commentary:  My belief is that they will realize that imposing a request like this on policyholders will be both cumbersome and will require a huge number of State staff and cost.  What I believe the State will do is place the burden on insurers (who of course will also have to staff up and/or add systems).
Washington House Republicans are calling on the legislature to repeal the state's new long-term care insurance program scheduled to begin next year.  Several Republicans have filed bills seeking to change or repeal the new program.
Commentary:  This is the fun one to watch.  Currently Democrats control the State Senate (29 to 20) / House (57 to 41) with elections coming in 2022 (primaries in May/General in November).  There was a lot of 'big money' behind the initiative that created the LTSS program … but as we have seen in the past, pocketbook issues can capture an electorate.  Will Republicans seize on this as a way to raise funds and win seats?  Will the past = the present?  Will what happened this week in Virginia and New Jersey scare enough Democrats to back away or delay the effort?
This is why I'm watching.  Keep you posted.