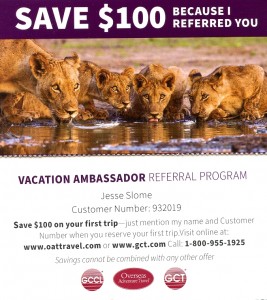 Women interested in travel are encouraged to take advantage of a special solo women travel discount offer extended by Jesse Slome, director of the American Association for Long-Term Care Insurance (AALTCI).
"I try to take two trips a year to foreign countries and on many of those trips I encounter women who are traveling alone," shared Slome, AALTCI's director as part of a special program conducted for association elite members.  "Many of our trips are organized by two leading tour organizers who especially cater to single women travelers."
Slome noted that the company he favors is Overseas Adventure Travel (OAT) or their parent company Grand Circle Travel.   "There are many reasons that I like OAT, but for solo women travelers, they offer some significant advantages like no single supplement fees and an increasing number of tours organized for women only."
The frequent traveler, Slome shared that he has taken recent trips with the tour company to India, Columbia, New Zealand, Argentina, Peru and Croatia.  "One every trip there have been single women who took advantage of the company's focus on solo travelers and if you enjoy travel as much as I do, consider checking them out," Slome encouraged his association's membership.
First time travelers with OAT or Grand Circle are eligible for a special referral discount that will save an additional $100 the Association director notes.  "The discount can be taken by anyone who simply mentions my name (Jesse Slome) and the Referral Code 932019."  The discount only applies for the first trip.
For more information on solo women travel and the Association's discount offer Email the Association's director.
The American Association for Long-Term Care Insurance advocates for the importance of long-term care planning. Established in 1998, the organization connects consumers with knowledgeable professionals who are independent advisors for no-cost, no-obligation long-term care insurance quotes and policy comparisons.