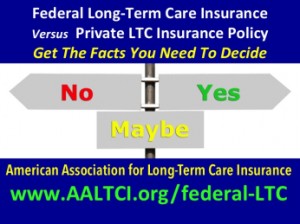 The largest employer-sponsored long-term care insurance program is being refreshed and will shortly be offered to millions of federal employees and their families according to the American Association for Long-Term Care Insurance (AALTCI).
"The Federal Long-Term Care Insurance Program is the nation's largest group LTC plan, with some 270,000 plan participants," shares Jesse Slome, AALTCI's director.  Slome was discussing news of the new plan offering with leading long-term care insurance professionals.
"I am certain the new plan will be heavily promoted to millions of federal employees and that will inevitably raise questions that you need to be prepared to answer," Slome advised the group.  "There are some definite attractive features of the new plan but in many cases an individual will be paying more that they would for comparable long-term care insurance from a highly-rated insurer."
Slome shared an overview with the audience and noted that additional comparisons would be posted shortly on the organization's website.  "In general, here's what we advise consumers who call with questions," Slome acknowledged to the professionals.  "If there a couple where both are interested in coverage, the Federal plan does not offer spousal discounts that private insurers make available.  If the individuals are in good health, the Federal plan's nature has healthy people subsidizing unhealthy applicants and that's something private plans do not do."
The Federal plan has a preset number of options.  "That makes the plan simple for people to choose from but it does limit options, choice and ways to make coverage less costly," Slome added.  "For example, the Federal LTC program offers a 3 percent inflation growth option but someone looking to save who has their own savings and assets might want to consider a 2 percent option."
The long-term care insurance professional urged all to learn more about the Federal plan, it's history of prior rate increases and be knowledgeable should interested consumers contact them.  "We all want to help people understand this complex subject of long-term care planning and be able to make the best decision for that meets their individual needs and budget."
The Association has created online information that can be accessed at www.aaltci.org/federal-long-term-care-insurance-plan.php
"More information including some cost comparisons will be added in the future," Slome says.  "And we'll include any suggestions shared by leading long-term care insurance specialists that will help eligible consumers make more educated decisions."
The American Association for Long-Term Care Insurance advocates for the importance of long-term care planning.   Established in 1998, the organization connects consumers with knowledgeable professionals who are independent advisors for no-cost, no-obligation long-term care insurance quotes and policy comparisons.