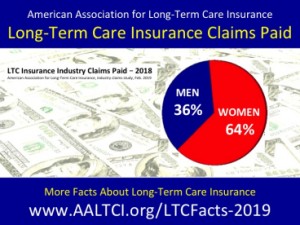 Nearly two-thirds of long-term care insurance claim benefits are paid to women according to the latest study conducted by the American Association for Long-Term Care Insurance (AALTCI).
"Women account for 64 percent of long-term care insurance claims, men for 36 percent," explains Jesse Slome, director of AALTCI, the national long-term care insurance association.   The organization shared data from an analysis of claim data shared by seven of the largest long-term care insurance companies.
"Women are likely to need long-term care for a variety of reasons that generally result from living longer lives as well as conditions like dementia and Alzheimer's disease," Slome notes.  "This has been similar in prior studies and is one of the reasons women now pay more for long-term care insurance than men – they need this protection and benefit greatly from having it."
According to recent data shared by the Association's 2019 study of long-term care insurance claims, the largest claims paid by reporting insurers had surpassed the $2 million-per-claim paid level.  "Some of these claims last 10 to 15 years and while that's the worst case scenario, this is a reality that people need to be aware of," Slome adds.  In 2018, the nation's long-term care insurers paid out a cumulative $10.3 billion to over 300,000 policyholders.
AALTCI's director shared plans for a campaign specifically targeting older women on their own.  "We are going to find a few female agents who are passionate about educating women and helping them affordably plan for the real risk they face," Slome shared.
The American Association for Long-Term Care Insurance advocates for the importance of long-term care planning and helps consumers connect with knowledgeable professionals who are independent advisors.   Consumers looking for local long-term care insurance cost comparisons should visit the Association's website at www.aaltci.org or can call the organization's national headquarters at 818-597-3227.