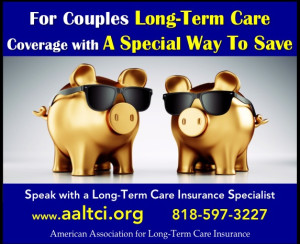 Taking advantage of smart planning strategies and policy options can effectively reduce the cost of long-term care insurance for couples according to the American Association for Long-Term Care Insurance.
"There are indeed often overlooked ways that couples and partners living together can save on this important protection," explains Jesse Slome, AALTCI's director.
For couples Slome suggests considering a long-term care insurance policy that offers a shared care benefit option.  "The shared care rider typically allows one spouse to double their benefit life-span getting as much as twice the protection and saving money in the process," Slome notes.  "What's mine can also be yours is the simplest way to explain this option."
The long-term care insurance expert explains how the couples can benefit.  "Instead of two plans each with a maximum available benefit pool of $360,000, adding the shared care option can enable each spouse to share a joint maximum of up to $720,000 available to each," Slome notes.
According to the Association's 2020 policy analysis, two 55-year spouses each buying separate policies with $720,000 of benefits available to them at age 85 could pay $5,700 annually.  "Taking advantage of the shared care benefit option will save $1,000 or more and still give each spouse access to that $720,000 benefit pool at age 85," the AALTCI director reports.
Shared care provisions can vary by insurance company and state regulations points out George Mellendorf, President of LTC Solutions, a national distributor of individual and multi-life long-term care insurance headquartered in Cape Coral, FL.  "Details are spelled out in the policy contract but you generally don't get that until after you are approved and the policy is issued," Mellendorf explains.  "The differences can be significant."
As an example, an insurer such as Thrivent enables the benefit partner to purchase additional benefits without additional health underwriting.  "If one insured qualifies for the waiver of premium because they are on claim, a policy can waive the premium for the spouse," Mellendorf adds.  "All of these small but important contractual provisions can be exceedingly meaningful.  They are ways to benefit and also save."
The shared care benefit rider is available to married couples.  "In addition, state and domestic partners that are named in a valid certificate or license by the state can qualify," Slome shares.  "Companies may allow two individuals living together for a period of time in a committed relationship to qualify."
Couples and partners wanting to learn more about long-term care insurance costs and ways to save can connect with an independent LTC insurance specialist by visiting the American Association for Long-Term Care Insurance website or by calling the organization at 818-597-3227.
Established in 1998, AALTCI advocates for the importance of protecting against the real risk of needing long-term care and supports insurance professionals who market traditional and linked-benefit LTC insurance solutions.