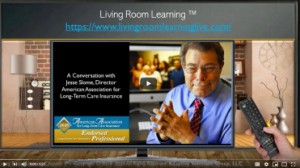 The coronavirus provides an important messaging opportunity for insurance professionals who market long-term care insurance solutions advises the director of the American Association for Long-Term Care Insurance.
"Now is the time to stress that long-term care insurance enables individuals to receive care in their own home," shares Jesse Slome, director of the long-term care insurance organization.   Slome completed a webinar broadcast for LivingRoomLearning.com a support organization for insurance agents and brokers.
"People are aware of the enormous toll the Coronavirus is taking on nursing home resident," Slome noted.  He shared findings from this week's USA Today article that reported covid-19 cases in 2,300 long-term care facilities across 37 states.  "More than 3,000 residents have died," Slome adds.  "I wish that were not the case but we have to deal with reality and our job is to educate consumers about their options for a safe and secure future."
Slome who is one of the nation's leading long-term care insurance experts advised insurance professionals to clearly articulate the fact that insurance pays for home care.  "I suggest you explain this insurance is actually nursing home avoidance insurance enabling someone to receive care at home which is likely where they want to be," Slome advised.
In the presentation he shared that latest data gathered by AALTCI that showed 51 percent of newly opened long-term care insurance claims begin by paying for home care.  "It's natural to assume that over time, these individuals eventually transferred to a nursing home setting but that's not the case," Slome adds.  The Association reported that 43 percent of claims ended with the policyholder receiving care at home.
"I believe the current health crisis is an important time to educate more people about affordable traditional long-term care insurance policies.  Specifically those between ages 55 and 65," he added.
To learn more about long-term care insurance costs and planning visit the Association's website.  To connect with a specialist who can explain both traditional and hybrid products contact the Association via their website or call 818-597-3227.
Living Room Learning  is a consumer content library of On-Demand Educational Videos, Live Internet Broadcasts and Resourced Information and Material pertaining to insurance and financial services related products.  Designed for to bring together the consumer with the financial services professional.