A special four-page insert promoting long term care planning which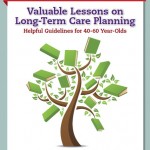 appears in the November 2012 edition of Kiplinger's Personal Finance magazine has just been added to the Association's.
Access to the guide, the fourth available to consumers, is free of charge and no sign-in information is required to access the guides.  Click this link to read the four long term care insurance information guides from AALTCI.
The latest in the ongoing series of consumer awareness efforts produced by the American Association for Long term Care Insurance focuses on helping individuals between 40 and 60 understand the importance of initiating a plan.   The magazine insert, made possible by commitments from leading insurers Genworth Financial and John Hancock, was timed to coincide with November's Long Term Care Awareness Month.
"Each of the Kiplinger's consumer guides are designed to heighten awareness as well as specifically provide new and relevant planning information that will encourage more individuals to take action," declares Jesse Slome, AALTCI's executive director.  "The new guide recognizes that consumers today are increasingly budget conscious and addresses ways to take advantage of age and health to make this important protection affordable."
The insert in the November issue of Kiplinger's will reach some two million readers nationally.  "Buyers of long term care insurance are very defined at this point and a highly targeted marketing effort is both financially prudent and most likely to generate the greatest results," Slome explains.   The median age for Kiplinger's readers is 56 and nearly two-thirds (63%) of readers are men.  Over half of the magazine's readers have a household income of over $100,000 and a median net worth of nearly $500,000.
An online version of the insert "Valuable Lessons on Long-Term Care Planning; Helpful Guidelines for 40-60 Year Olds" has been posted on the Association's website at www.aaltci.org/guides.
The American Association for Long Term Care Insurance was established in 1998 to advocate for the importance of planning for long term care and to support insurance and financial professionals who market LTC insurance.  To learn more call the organization's offices at (818) 597-3227 or visit the Association's website.