Some 350,000 Americans purchased long-term care protection including both traditional long-term care insurance as well as combination products according to a report released by the American Association for Long-Term Care Insurance (AALTCI).
See latest long-term care insurance statistics, data, costs (Click this link)
"Individual buyers understand the consequences associated with living a long life which often include the need for long-term care," explains Jesse Slome, director of AALTCI.  "Those who want to have a plan continue to see value in products which can pay for costs associated with needing that care."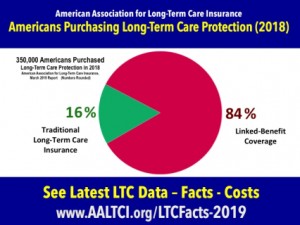 According to the Association of the roughly 350,000 individuals who purchased coverage, roughly 16 percent opted for traditional health-based long-term care insurance.  "The trend to combination products continues and they can be a very viable option," Slome notes.
"Unfortunately many consumers are tainted by what they have read about older stand-alone policies," Slome adds.  "The traditional long-term care insurance policies offered today do not have the premium instability of the older policies."
The growth of combination products in recent years has prompted more insurance companies to offer such products and to expand their offerings.  "In the past, most of these policies were sold as single premium requiring a single payment of $50,000 to $100,000 per individual," Slome explains.  "Today, insurers are offering flexible premiums which allow annual payments for this important protection.  That's far more consumer friendly and something buyers clearly prefer."
Headquartered in Westlake Village, California, the American Association for Long-Term Care Insurance advocates for the importance of long-term care planning.   The organization connects consumers with knowledgeable professionals who are independent advisors for no-cost, no-obligation long-term care insurance quotes.   Consumers seeking long-term care insurance cost comparisons for either traditional or linked-benefit policies should visit the Association's website at www.aaltci.org or can call the organization's national headquarters at 818-597-3227.