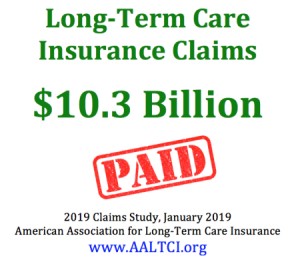 A record $10.3 Billion in claims was paid last year by the nation's long term care insurance companies according to the American Association for Long-Term Care Insurance.  Benefits were paid on more than 303,000 policies.
"The industry passed the $10 billion mark for the first time," reports Jesse Slome, director of the American Association for Long Term Care Insurance (AALTCI), a national trade group.   According to AALTCI, in 2017, total claims amounted to $9.2 Billion paid to some 295,000 individuals.
The annual study reports claims paid to policyholders who have a traditional, health-based long-term care insurance policy.   "These are the majority of long-term care insurance policies held by over 7 million Americans.  Traditional long-term care insurance pays when care is needed at home, in assisted living communities or in a skilled nursing home environment," Slome explains.
According to the Association, the actual number of policy claimants who received benefits during the year will exceed the 303,000 number.  "The Association reports claimants based on a fixed date for consistency," Slome notes.   "The total value of benefits paid is undoubtedly larger because today there are thousands of individuals who own linked benefit life insurance or annuity policies that can also provide LTC benefits."
"Long term care insurance provides more than just the cash to pay for care," Slome adds.  "It's as much about having control and choices when care is needed, while protecting your retirement plans and your family's lifestyle.  With more Americans living long lives, it is increasingly important that people plan for the very real risk.  You must however start when you are still able to health qualify for long-term care insurance coverage."
The American Association for Long-Term Care Insurance is the national professional organization exclusively dedicated to promoting the importance of planning for long-term care needs.    To compare long term care insurance costs connect with a designated professional by calling the national organization at (818) 597-3227 or visiting their website where local agents can be found.