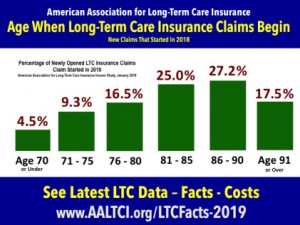 Nearly half of all newly started long-term care insurance claims begin for policyholders age 86 or older according to a new study released by the American Association for Long-Term Care Insurance (AALTCI).
Click Here to See Latest Long-Term Care Insurance Data – Facts – Costs – Statistics
"If you live a long life into your 80s, 90s or past age 100 you are increasingly likely to need some long-term care," explains Jesse Slome, director of AALTCI which gathered data from seven leading long-term care insurance companies.    "While some younger individuals receive claim benefits from owning long-term care insurance, the vast majority of new claims begin after age 85."
According to the Association's analysis of new long-term care insurance claims that began during 2018, 25 percent of new claims were initiated by policyholders between ages 81 and 85, 27.2 percent were between ages 86 and 90, and 17.5 percent were age 981 or older.
Oldest New Claimant Ages Are All Over 100
The AALTCI study found that for each of the insurers, the oldest policyholders to initiate a new claim were all centenarians.  "The oldest new claim was started by someone who was 106," Slome notes.  "Two were age 105 , two were 104 and two were 101.  Many Americans are living longer lives and are benefiting from having this protection in place which enables them to receive care at home or in assisted living or skilled care facilities."
The youngest new claimant was 25 according to the AALTCI study.   "While most claims are due to aging and related illnesses that come along with living a long life, younger people have accidents and can benefit as well.  The important message for consumers is the need to get your insurance while you can still health qualify for coverage," Slome adds.  The Association recommends that the ideal age to consider LTC insurance is between ages 55 and 65.
Headquartered in Los Angeles, CA, the American Association for Long-Term Care Insurance advocates for the importance of long-term care planning.  The organization helps consumers connect with knowledgeable professionals who are independent advisors.   Consumers seeking long-term care insurance cost comparisons should visit the Association's website at www.aaltci.org or can call the organization's national headquarters at 818-597-3227.