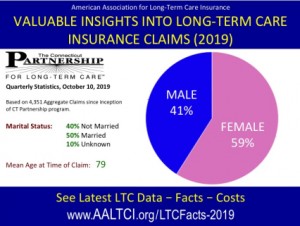 It's roughly 13 years from the a consumer purchases a long-term care insurance policy to the beginning of a claim according to information being shared by the American Association for Long-Term Care Insurance (AALTCI).
"The information comes from one of the very few relevant studies of long-term care insurance so the insights are of enormous value," explains Jesse Slome, director of the group.  Slome, who is the author of numerous consumer guides that focus on long-term care and retirement planning, was conducting a conference call with leading long-term care insurance specialists.
According to the Association director, the data comes from the October 2019 quarterly report issued by the Connecticut Partnership for Long-Term Care.  "Connecticut was one of the four original Partnership states and to the best of my knowledge is still the only one that regularly gathers and publishes relevant data."  The other four original Partnership States were New York, California and Indiana.
"Perhaps the most interesting piece of information was the finding that the average time between the purchase of a long-term care insurance policy and the eligibility for claim is 161 months (13.4 years)," Slome noted.  The Connecticut report was based on a total of 4,351 aggregate claimants.  "While Connecticut is a small state, I suspect this data will be almost identical for the entire industry because it represents an aged block of business," Slome commented.
The average age at the time of claim was 79, Slome shared with the professionals.  The mean age at the time of claim ranged from 31 to 99.
To access this and other long-term care insurance information, visit the Association website or go to www.aaltci.org/long-term-care-insurance/learning-center/ltcfacts-2019.php
The Association estimates that some 60,000 Americans will purchase a new traditional long-term care insurance policy in 2019 and several hundred thousand will purchase a linked-benefit policy that offers long-term care benefits.  "Both are excellent ways to plan for the very real risk of one day needing care," Slome shared with the group.
Headquartered in California, the American Association for Long-Term Care Insurance advocates for the importance of long-term care planning.   Established in 1998, the organization connects consumers with knowledgeable professionals who are independent advisors for no-cost, no-obligation long-term care insurance quotes and policy comparisons.