Discount on Million Dollar Roundtable's Required Association Membership
The American Association for Long-Term Care Insurance proudly supports MDRT's requirement that insurance professionals belong to an industry trade organization. And, we are equally proud that membership in AALTCI meets their requirements.
Our organiation is committed to growing the long-term care insurance industry. And, that means having more insurance professions educated and committed to selling long-term care insurance products. We are pleased to offer a discount to those agents who wish to join AALTCI in order to meet the MDRT Association requirement.
MDRT DISCOUNT MEMBERSHIP IS ONLY $60-PER-YEAR
Save $38 on your AALTCI membership. Pay only $60 when you enter the code MDRT38 in the Referral Code box on the online membership application.
The Referral Code box can be found on the right hand side, just before you enter your credit card information.
When you click on the next box you will see the reduction in price reflected.
Simply Click Here For MDRT Discount Application.
Remember to enter MDRT38 in the Referral Code box on the online membership application.
Your Membership Helps Build Long-Term Care Awareness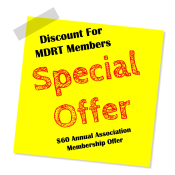 Our primary work is educating consumers and insurance professionals about the importance of long-term care planning.
Member support is the only income AALTCI receives (and we sincerely thank you).
As a member, you can be listed on the Association website directory. Consumers do use this to find local long-term care insurance agents. You will do this when you complete the Membership Online Application.
We post a ton of relevant information pertaining to traditional and linked benefit long-term care insurance. You can access it by clicking the link for LONG-TERM CARE INSURANCE STATISTICS & DATA.

Join Now At The Special MDRT Discounted Rate
Click the link to Get Your Discount Million Dollar Roundtable Membership.
Remember to enter MDRT38 in the Referral Code box on the online membership application.
Do You Sell Medicare Insuramnce Products?
Check out the American Association for Medicare Supplement Insurance (AAMSI). This organization also endeavors to educater consumers and support insurance professionals who market various Medicare insurance products.
There is no membership fee BUT AAMSI makes available the leading online directory that lists local Medicare insurance agents. You can read testimonials from listed agents here. Click this link to read Medicare Insurance Agent Directory Testimonials.
https://medicaresupp.org/sell-medicare-insurance/find-medicare-supplement-agent-testimonials/
Visit the Medicare insurance information pages where we regularly post items that are of value to insurance professionals.
Simply click for great Medicare Insurance Information.