Long Term Care Insurance - Can You Health Qualify?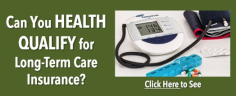 Your money pays for long-term care insurance -- BUT YOUR HEALTH BUYS IT!
Simply stated, insurance companies will NOT sell long-term care insurance to individuals who are too old ... or who have existing health issues. Even a combination of prescription medications could prevent you from health qualifying.
If you have some health issues, you do not want to be declined. It could mean no other insurance company will accept you. We share some important information, sot please keep reading.
This webpage has been written and posted by Jesse Slome, director of the American Association for Long-Term Care Insurance (AALTCI). AALTCI was founded by Slome in 1998 as a non profit educational organization. WE DO NOT GET FUNDING FROM INSURANCE COMPANIES and I (Jesse Slome) understand how sensitive this topic is. Trust me, I am frugal to the core and understand how one feels when having to pay more for anything. My primary mission is to provide accurate, relevant information to help you make the right decision for yourself and your family.
---
Each long term care insurance company looks at your health information
Here's what's important for you to know.
Each insurance company sets their own health standards.
The older you are - the more likely that your health conditions will prevent you from qualifying for long-term care insurance.
Take prescription medications? You consider yourself in good hgealth but the insurance company may consider you as being in good 'controlled' health (and they'll decline you).
If you are DECLINED by one insurance company, others may automatically decline you. So, if you have some health issues, it really pays to speak with a knowledgeable long-term care insurance specialist.
---
What is the most important thing to know?
Most of us take prescription medications. If you take some (generally for conditions other than blood pressure or cholesterol) you are in 'controlled' health. That could make it hard(er) to get long-term care insurance coverage.
IF YOU HAVE HEALTH ISSUES it really pays to speak with a knowledgeable long-term care insurance specialist. They know which insurance companies might accept you. And, they often have relationships with Underwriters (the people who ultimately approve your application). They can get them the information needed to turn a DECLINEinto an ACCEPTED.
What's The Fastest Way To Know If I Can Health Qualify?
You can call the Association offices (between 9AM and 3PM Pacific Time).
Call: 818-597-3227
We do NOTsell insurance but we can generally answer health related questions. Be prepared to be asked what medications you take, whether you use assistive devices or have had a recent hospital stay. If you are likely to be accepted, we will suggest that you speak with one long-term care insurance specialist. They can be far more specific regarding individual insurance company requirements.
---
Is diabetes acceptable?
There are many common conditions, such as high blood pressure and high cholesterol. Long-term care insurance companies do not mind these as long as they are under control and have been stable for a while.
Diabetes can be acceptable with some insurance companies, depending on your A1C level and how much insulin you use. If you have experienced any complications caused by the diabetes, it is important to check before applying.
---
What conditions will result in an automatic decline?
If you currently need help with any of the Activities of Daily Living you will not be accepted for long-term care insurance. These include help with eating, bathing, dressing, toileting, transferring, and continence.
If you are already in a nursing home or Assisted Living community (receiving care), you will absolutely not be accepted.
A few other reasons you will be denied LTC insurance coverage.
If you use a walker.
If you have Alzheimer's.
If you have certain cancers.
If you had a recent stroke.
If you have Parkinson's disease or AIDS.
Are there any other options?
YES, there may be!
There are policies which we refer to as
Short-Term Care Coverage
and they may have less restrictive requirements than a traditional long-term care insurance policy.
Some will also accept applicants who are older - up to age 80.
But these policies are NOT AVAILABLE IN ALL STATES.
If you think somethjing like this might be of interest, call the Association at 818-597-3227. We can tell you if policies are available in your state. And, we can have you connect with an insurance professional whio knows both products.
Thanks for reading.
Jesse Slome
Director
American Association for Long-Term Care Insurance
---
Where Can You Find Local Medicare Insurance Agents?
Our sister organization, the American Association for Medicare Supplement Insurance, has an extensive national directory of Medicare insurance professionals in all 50 states.
Click the link to use our free directory. It is 100% FREE and also 100% private. Find a local Medicare insurance agent