The American Association for Long-Term Care Insurance was established to create awareness and benefit both consumers and insurance professionals. We do not sell insurance (our members do). We do not favor or promote one insurance company over another. When we learn of opportunities that can benefit consumers, we pass along the information. Always work with a knowledgeable insurance professional you trust, read the policy and be sure to ask questions.
A Home Health Care Policy With Added Benefits (North Carolina Residents)
If you have health insurance, you might be surprised how many things are not covered. And, if you qualify for Medicare, the same is true. Health insurance (including ObamaCare) and Medicare do not cover all charges. Take a minute to read our 2-page guide "Shock Treatment" Click here to read there is NO 'sign-in' info required to access.
And, if you're thinking about long-term care, you want coverage that allows you to receive care in your own home. That's what most people want ... and a home health care insurance policy can affordably provide cash to pay for home health care services.
Many home health care policies (also referred to as "Recovery Care" or "Short-Term Care" insurance policies) will pay benefits for 1 year or less. This makes the policy far more affordable. For many people, it is all the insurance they need. While some long-term care claims last for many years, almost half (49%) of long-term care insurance claims LAST ONE YEAR OR LESS.
We have recently become aware of a Home Health Care Insurance Policy that offers residents of North Carolina BOTH Home Health Care Benefits PLUS ADDITIONAL OPTIONAL BENEFITS that pay for care that may NOT be covered by your health insurance or Medicare. Click this link to read the Kemper Home Health Care Insurance Plan brochure.
In fact, this policy will pay you a cash benefit for things like a physical exam and prescription drugs, EVEN IF YOUR HEALTH INSURANCE or MEDICARE PAYS.
5 IMPORTANT POINTS -- Some Benefits Exclusive To NC Residents
#1 You can apply for this policy UP TO AGE 85 if you can answer "NO" to 2 questions. The 2 questions can be found below.

#2
This policy pays cash and it doesn't matter if Medicare or your health insurance pays.
It pays you a benefit EVEN if Medicare or other health insurance pays!

#3
If you don't need home care this year (or even next), this policy can still pay you cash benefits every year! That is one of the benefits we find of real value.

#4
The pricing for coverage in North Carolina makes this policy extremely attractive.

#5 In North Carolina - If the RETAIL price for your prescription medicines is about $365-a-year, you ARE PAID $250 (reimbursement is based on the retail price - NOT what you pay!).
Home Health Care Benefits (North Carolina Policy Provisions Summarized)
Up to $150 Per-Day for approved Home Health Care Practitioners (example: Physical Therapy at $75; Skilled Nursing Care (RN) at $75) -- A Maximum Benefit of $54,000.
A daily benefit of $40 for a Home Health Care Aide Benefit (following a hospital stay of not less than 3 days) -- A Maximum Benefit of $2,400.
A Prescription Drug Benefit. Meet a $50 yearly deductible and policy pays 80% up to $250/year
Annual Physical Exam ($150) one every 12 months after policy has been in force for 1 year.
Vision Exam ($40) + Lenses and Frames ($75) after rider in force for 6 months. Some limits apply.
Hearing Exam ($50 per exam) + $250 for hearing aid (one hearing aid every 24 months)
Ambulance ($100-per-trip)
In-Hospital Private Duty Nurse Benefit ($80/day)
This is a summarized description of some of the policies. Read the actual policy and./or outline of coverage for complete information, limitations and exclusions.
How Much Does This Coverage Cost? (North Carolina Rates)
The charts show rates for the Home Health Care Benefits ONLY (left) and the Home Health Care PLUS the Optional Benefits (right). Rates are always subject to change, so please request the latest information.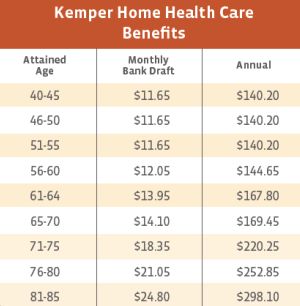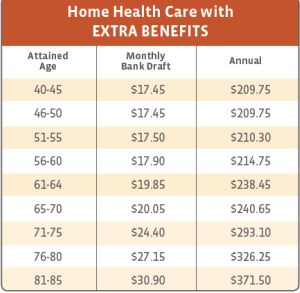 HOW YOU BENEFIT -- If You Are 55 ... If You Are 65 ... if You Are 75!
A 55-year-old will pay $210-per-year for the Home Health Care Coverage with EXTRA BENEFITS. If you take prescription drugs with a RETAIL cost of around $360 a year, submit and get reimbursed about $248 ($360 less $50 deductible = $310 x 80%). If you go for an annual physical (after 1 year) you submit your bill and get reimbursed up to $150 ... even if your health insurance plan covers the charges! YES, you could receive more back in benefits than the policy costs -- by taking advantage of all the benefits!
A 65-year-old will pay $240-per-year. This is NOT Medicare Supplement insurance but it will pay for costs not covered by Medicare ... and it will pay EVEN IF MEDICARE ALSO PAYS! If you go for an annual physical (after 1 year) you submit your bill and get reimbursed up to $150 ... even if Medicare covered the charges. And, as you get older, the chances of needing home health care grow.
A 75-year-old will pay less than $25 a month. By age 75, you likely know what home care costs. When you add up all the potential benefits offered by this coverage and the simple YES / NO health questions asked to qualify, you'll see the real potential value.
What Are The Two Questions You Must Answer "NO" To
#1 Are you currently living in a nursing home or assisted living facility or currently receiving home health care or similar type benefits?
#2 Are you physically unable to perform routine activities such as bathing, dressing, eating, toileting or transferring to or from a bed or chair?
Receive More Information
To request information from a licensed agent, call the American Association for Long-Term Care Insurance at 818-597-3227 or Click here to request information via Email.



LEARN MORE

Click Here Now To Read
Shock Treatment
The 3-page guide explains what is
NOT covered by health insurance and Medicare.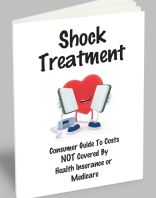 Request No-Obligation
Information & Costs
Call: 818-597-3227
Email Your Request.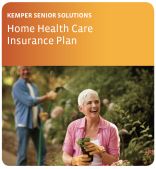 Click Here to read the Kemper Home Health Care Insurance Plan brochure.

We DO NOT SELL Insurance
The American Association for Long-Term Care Insurance advocates for the importance of long-term care planning. We educate and share information. To purchase insurance, you must work with a insurance professional licensed in the specific state where you reside. You may however contact us to be connected with such a professional.
COMPARE COSTS & RATES
Medicare Insurance Information

SOUTH CAROLINA