Compare Long-Term Care Insurance Costs & Benefits

How To Get The Best Coverage
For The Best Price
The typical long term care insurance policy is a 40-to-50 page document that spells out the various rules governing your policy. Unfortunately, you won't receive the actual policy until after you apply for insurance and are approved by the insurer.
And, chances are, you'll never read the policy ... until you (a family member or loved one) need care. At that point, the policy language (not what you recall the insurance agent verbally told you) will govern how (and if) you get paid.
IMPORTANT FACT TO KNOW: There are significant differences between long-term care insurance policies!
✔ PRICE DIFFERENCES

✔ AVAILABLE DISCOUNT DIFFERENCES

✔ DIFFERENCES IN OPTIONS AVAILABLE FOR COUPLES AND YOUNGER PEOPLE
✔ ACCEPTABLE HEALTH CONDITION DIFFERENCES

The differences can be significant. The savings can be significant. NO one long-term care insurer is ALWAYS THE BEST / LEAST EXPENSIVE ... and NO one insurer IS ALWAYS THE MOST EXPENSIVE.
The best we can do is point out relevant facts that we believe will be helpful for the major long-term care insurance companies. If you would like specific comparisons, we recommend calling the Association offices. We do not sell long-term care insurance but can answer your general questions and, if you like, connect you with a specialist who is knowledgeable about the various policies available to you.
If you would like information or actual cost quotes from leading experts licensed in your state CALL THE ASSOCIATION OFFICES at (818) 597-3227 (Monday-Friday 8 AM - 5 PM West Coast Time) -- Or complete our simple questionnaire.
Click the Request A Quote box to get started.
---
WHAT IF YOU ALREADY HAVE A LONG-TERM CARE INSURANCE POLICY?
If you recently applied, you have a "30 Day Free Look" period during which time you can cancel your policy and get a complete refund of any monies paid. Many people compare during their Free Look Period but we advise you to NOT cancel any coverage until you know for certain you have been accepted by another insurance company.
If your policy is 1-2 years old, you still might be able to get better coverage for less money. It does pay to compare but again, NEVER cancel any existing coverage until you know for certain you have been accepted by another insurance company.
If your policy is 3 years or older, we find it rarely pays to cancel it and start over. If you are facing a rate increase, talk with the insurance company. They typically will extend options that enable you to continue paying the same premium.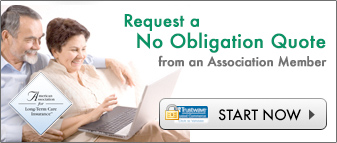 ---
WHAT DEFINES A "LONG-TERM CARE SPECIALIST"?
EXPERIENCE it takes time to really learn this business. Typically, a long term care insurance specialist will have been working in the field for 3 or more years.
# POLICIES SOLD THIS (or LAST) YEAR many insurance agents have been selling for years but they rarely sell long-term care insurance. As a result, they may not be current on the latest policy changes and options that would be of greatest benefit to you. A good number: at least 25 (better still: 50 or more a year!).
# COMPANIES APPOINTED WITH. "Appointed" is insurance industry jargon that means the agent can sell you a policy from that company (and earn a commission). If they can't sell you the policy (and get paid) they just may not be inclined to tell you about it. A specialist is typically appointed to sell policies from least 4 (and often more) long term care insurers.
Long Term Care Insurance Learning Center