Your Current Options - The Washington State Tax versus Private LTC Insurance
Effective August 19, 2021

We appreciate that many people are just learning about the new tax. And, you are reading that you have until November 1st to get insurance in order to qualify for an exemption.
Unfortunately, insurance companies (at least the ones we know) have either;
1) Stopped accepting all new applications.
2) Are so inundated that they can't guarantee policies issued in time.
3) Have set some very high minimum dollar amounts.

The Association does not sell insurance. The Washington agents we know have asked us to stop sending people their way (they are overloaded). And, we do not want to frustrate people who understandably assume that someone will be calling them after they submit a request for a quote.
For that reason, we are not going to forward any Washington requests for quotes - at least until further notice. We apologize to all.
PLEASE DO NOT SUBMIT A REQUEST FOR A QUOTE. It will NOT be forwarded to anyone. Thank you for understanding.
---
What Are My Options Now?
If you work for a company that is offering long-term care insurance (a policy that meets the exemption requirements) you should investigate that as quickly as possible.
Otherwise, we regret to tell you that at this time, there are no options we know of.
Why Is This Happening?
Insurance companies need time to process applications. They undertake analysis of your health. This all takes time and costs money. Several stopped taking new Washington applications at the end of July. Another two stopped accepting new applications today (August 6). Others have said they can't guarantee they will be able to issue policies in time to meet the exemption timetable.
The American Association for Long-Term Care Insurance does not want to have people frustrated - or angry because someone sold them coverage and then they still not not qualify for the exemption.
So, what can you do? Call your State representatives. Ask them to extend the Exemption Period for another 12 months. That's not likely to happen; but it's worth letting them know you are not happy.
Insurance companies have imposed significant limitations and these are changing regularly.


If you wish to receive a quote for LTC insurance (Washington State) please click the link below.
Click This Link & Provide the 4 Pieces of Information

Only provide the following information:
1. First Name - Last Name
2. State (Pull down to WA)
3. Email
4. Phone
You will be contacted by a knowledgeable long-term care agent.
Thank you.
---
---
DEADLINES: Several insurance companies have now said that they will NOT BE ABLE TO MEET WASHINGTON's NOV. 1 DEADLINE IF APPLICATIONS ARE SUBMITTED AFTER AUGUST 6th.
CRITERIA: UNDER AGE 40 -- Be prepared to buy a Life insurance + LTC policy. Minimum annual premium will be about $1,500 (single), $2,000 (couple). Your annual income should be $100,000 (AND you should see value in having better coverage OR might move out of WA). Over $150,000+ if your only goal is avoiding the tax.
CRITERIA: OVER AGE 40 -- Be prepared that minimum annual premiums will be $2,000 and UP a year depending on what policy provisions you pick.
WHO SHOULD CALL THE ASSOCIATION TO CONNECT WITH A SPECIALIST?
Your current annual income is around $200,000 (or more).
You realize now would be a good time to get some LTC insurance.
You want better benefits than the State plan.
You are likely going to move outside of WA (where the State plan gives you ) benefits.
You are willing and able to write a check for 1 year's premium.
---
FREQUENTLY ASKED QUESTIONS - UPDATED AUGUST 1, 2021

WAIT, I READ NOVEMBER 1st IS THE DEADLINE!
That is the State deadline. Insurance companies need time to proces applications, do health checks, etc. Many have already stopped accepting applications from Washington residents. Others are getting ready to stop accepting applications. If you are interested, be prepared to apply when speaking with a long-term care insurance specialist.
ARE THE INSURANCE COMPANIES RAISING RATES TO TAKE ADVANTAGE?
No. Policy premiums are regulated by the State and haven't changed. However, the insurance companies are placing minimum levels of coverage that they require.
I EARN LESS THAN $200,000, AM I OUT OF INSURANCE OPTIONS?
Probably at this point, yes. The State tax on $200,000 will be about $1,100 a year. The minimum cost for insurance (available in Washington) will be $2,000 and quite likely more. Unless you are prepared to pay those amounts, it's likely too late to secure an exemption. That said, if you have access to an approved plan through your work, or some agent has offered you an option, definitely consider it.
HA! I'LL APPLY AND DROP THE COVERAGE AFTER I SECURE THE TAX EXEMPTION.
Insurers anticipate that and that's why they have imposed limits. And, don't think the State can't amend the rules and check who has their coverage in force and who doesn't.
I SPOKE TO AN INSURANCE AGENT WHO OFFERED ME AN OPTION.
Great. First, we invite insurance agents and insurers to keep us updated. Make sure you get IN WRITING that the policy has met the State's requirement for the exemption. Verbal statements have no value when it comes to insurance.
---
Prior information: The following information below is no longer applicable.
Younger Than 40? - There are some linked benefit products that can qualify for the exemption. They cost more. If your income is generally LESS THAN $200,000, the new Washington tax will likely be less costly (for those simply looking to avoid the tax).
Employers: Feel Free To Share This Page With Employees
This webpage is designed to help individuals and employees decide IF PRIVATE LONG-TERM CARE INSURANCE is worth considering as a way to be EXEMPT from the new tax that will begin January 2022.
ONLY CALL THE ASSOCIATION FOR INSURANCE PRICES (please) IF:
1. You are under age 40 and your annual salary is $200,000 or more.
2. You are age 40 or older and your annual salary is $150,000 / $200,000 or more.
3. You are age 50 or older and decided this is the time to investigate long-term care insurance.
4. AND you have been to the doctor within the past year for a physical examination.
Insurance companies have set minimum levels of insurance protrection for Washington residents.
---
QUICK ANSWERS TO COMMON QUESTIONS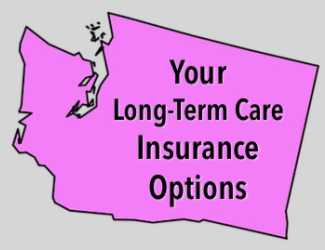 SHOULD I READ MORE ON THIS PAGE? YES, after reading the 4 criteria above.
WHY DOES MY SALARY MATTER? If you earn less that the amounts shown above, the new tax will cost you less than the minimal levels of long-term care insurance now required by insurers for Washington residents.
Who approved the new tax? Your state lawmakers created this program and the Governor signed it into law. Click This Link To Learn More
Isn't there any way to avoid the new tax? YES. Buying long-term care insurance is a way to be exempt from the new tax. BUT THAT IS AN OPTION ONLY FOR CERTAIN PEOPLE and we share some insights below.
What will private long-term care insurance cost me? The cost can indeed be less than the tax. We give some examples below. Insurance costs are based on your age, your health and how much coverage you choose to buy.
When Do I need to decide? If you want the exemption we strongly recommend you apply BEFORE SEPTEMBER 1, 2021. It can take 60-to-90 days for an insurer to approve and issue your policy.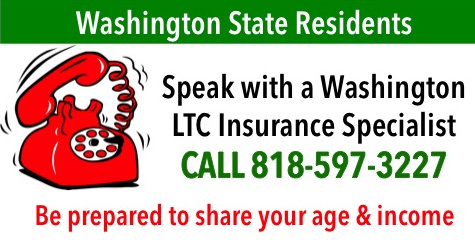 If you want to speak with a professional long-term care insurance specialist, call the Association at 818-597-3227. We will connect you with a Washington long-term care insurance specialist.
It will take between 20 and 40 minutes to complete the application for insurance with the agent.
IF YOUR SALARY IS HIGH - THEN IT PAYS TO COMPARE LTC INSURANCE
Here's What You Can Expect To Pay - Here's What to Do NEXT
The Washington State program provides MINIMAL benefits (about $36,000 of home care benefits).
Private long-term care insurance will provide substantially more.
Some private LTC insurance will allow you to get your money back.
Currently traditional long-term care insurance is ONLY available for Washington residents ages 40-plus.
For Washington residents under age 40 there are a variety of life insurance policies with long-term care insurance benefits that qualify for the Washington exemption. They have benefits worth considering:
1. You get life insurance coverage of significant value.
2. Many policies will offer money back in the future.
3. You do get LTC benefits should you ever need them,
COST FOR PRIVATE LONG-TERM CARE INSURANCE
Numbers shown are rough examples for Washington residents (basic minimal coverage NOW required by private LTC insurers). This is what you should expect to pay for LTC insurance that will qualify you to be EXEMPT from the Washington tax.
Age 30 Male:
$950-per-year for a $100,000 death benefit / $100,000 LTC benefit.
Age 30 Female:
$850-per-year for a $100,000 death benefit / $100,000 LTC benefit.
Age 35 Male:
$1,100-per-year for a $100,000 death benefit / $100,000 LTC benefit.
Age 35 Female:
$975-per-year for a $100,000 death benefit / $100,000 LTC benefit.
---
Age 40 Male:
$800-per-year for a $75,000 traditional LTC benefit.
Age 40 Female:
$1,300-per-year for a $75,000 traditional LTC benefit.
Age 50 Male:
$1,300-per-year for a $75,000 traditional LTC benefit.
Age 50 Female:
$2,100-per-year for a $75,000 traditional LTC benefit.
These prices are approximations based on good health at time of application. They reflect the requirements of one of the leading LTC insurance companies that requires a minimum $3,000-per-month benefit with a 3% inflation growth option.
---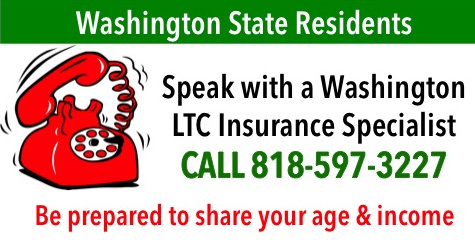 If you are ready to apply for long-term care insurance, Call the American Association for Long-Term care Insurance at 818-597-3227

We will connect you with one Washington State LTC Specialist.
---