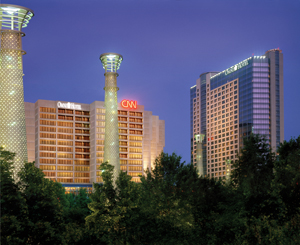 Conference Hotel

Omni Hotel at CNN Center, Atlanta
Headquarters Hotel for the 2008 National LTCi Producers Summit

We encourage Summit attendees to try to stay at the Omni Hotel at CNN Plaza, site for the 2008 LTCi Summit. Many insurers host wonderful open evening receptions and you don't want to miss the early morning plated breakfasts for our awards programs or the opportunity to network with your peers.

The Omni Hotel has rooms available on Sunday (Feb. 24) and Monday (Feb. 25) currently at the discounted rate of $179 (their Expedia rate is $295 as of 2/6). Rooms for Saturday, February 23 are currently SOLD OUT. See Below for recommended options available for Summit attendees.

To reserve a room at the Omni at CNN Plaza, call 800-524-0500. Mention Discount Code "Long-Term Care Summit" or "LTC Summit"

Reserve Roms at The Omni Online: Use the Omni's online Summit Reservation system to book a room.

OPTION FOR GUESTS NEEDING ROOMS SATURDAY, Feb. 23rd
UPDATED Wednesday, February 6. We recommend you book one night at another downtown hotel and then move over to the Omni for Sunday and Monday nights.

American Airlines Online Discount

Save 5% Off the American Airlines Internet rates (generally guaranteed to be the lowest available rates). Enter the "Promotion Code" below when booking via their website. Our meeting Promotion Code is " A2228AL "

Getting To The Omni at CNN Plaza - Airport Shuttle Discount

There are several ways to get from the Atlanta Airport (Hartsfield International) to the Omni Hotel.

MARTA - The Atlanta Subway (MARTA) runs from the airport and costs $1.75. Exit at the CNN Omni stop. It's a short walk (3 blocks) from the exit to the hotel.

TAXI - The Omni Hotel is about a 30 minute cab ride (Est. fare $30).

SHARED VAN - The Atlanta Link picks up at baggage claim. Fare: $16.50 per person. Click here for discounted reservations for Summit attendees.


SPECIAL SAVINGS OFFERS

Georgia Aquarium
(10% Off)
The world's largest aquarium with eight million gallons of fresh and marine water and more aquatic life than found in any other aquarium.
Summit Attendees:
Click Here To Purchase Discounted Tickets Online.

The Atlanta Link
Airport Van
Save $2 on your roundtrip van ride between the Atlanta Airport and the Omni Hotel.
Summit Attendees:
Click Here To Reserve Online.