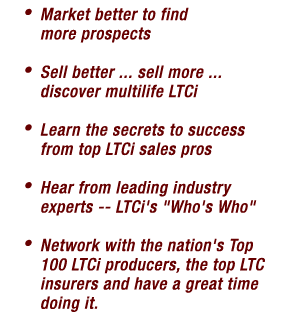 Does your marketing and sales approach to LTCi need an extreme makeover? Are you worried your sales are in a slump and you need a kick-start? Would you like to hear from top LTCi producers - those building their sales by 20% or more each year?

Rest assured this conference isn't yet another seat-numbing yawn-o-rama led by talking heads. The Summit is radically different.
We've packed this year's event with more opportunities for you to discover fresh and inventive approaches that are being used by successful producers. We've added sessions devoted to multi-life long-term care (the fast-growing opportunity) and sessions on proven ways to get a steady flow of renewals by creating alliances with planners, elder law attorneys and accountants.
If you want to plug into what's new, what's edgy, what's ahead - and WHAT WORKS! - in marketing and sales for LTC solutions, the Summit is the place to be.

The Producers Summit has sold out and we expect to sell out of space this year (again). Register today and get ready for three exciting and powerful days.
See you in Austin.
Jesse Slome
Executive Director